When is the best time to book your Summer rental?
Fire Island lovers who are looking now to book their Summer rental are certainly not looking too early! The sooner you look & book, the more available inventory there is to choose from, so we recommend you start looking into your summer rental plans now! 
Fire Island Sales & Rentals does a very large volume of rental bookings, with 22% of rentals booked before year's end for the following summer, and 38% of rentals booked between January and March. December is the perfect time to secure your rental in the home that is perfect for your group's needs, before the bulk of the inventory gets scooped up in January, February and March.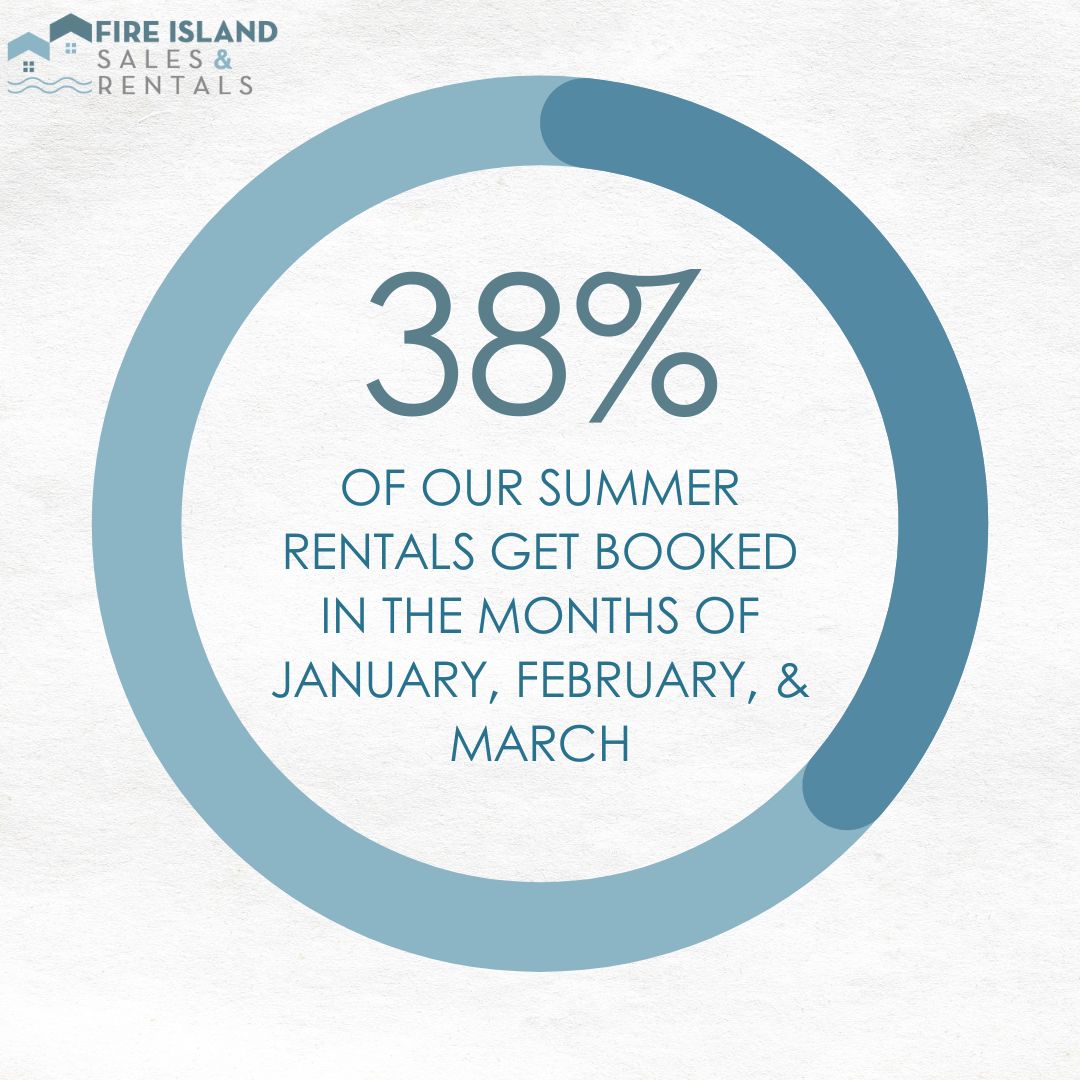 As the winter season goes on, more and more available homes get booked up, so right now is the best time to rent because you can get your pick of the most houses.  This is especially important if you have very specific dates or if you are looking for a home with specific requirements such as a pool, an oceanfront property, or a pet friendly home.  Because inventory of these home types is more limited, it is all the more important to start your search early on in the year.  At this point, almost all of our homeowners have figured out their availability for next Summer and are ready to start booking. If you're looking for a house with a pool, water views, traveling with pets or large groups it is very important to start booking earlier or you will likely have to make significant compromises if you wait to book until closer to the Summer season.  
If I wait until the last minute to book, can I score a great deal?
Some clients intentionally wait until the last minute to book their rentals in the hopes that they will find a deeply discounted rate if a home is still available close to their desired travel dates.  This strategy can work well, but only if you are very flexible with your needs.  If you are looking for a waterfront/water view home, a home with a pool, or a home with a very large sleeping capacity, we would not recommend this strategy, as those houses are in such high demand that they tend to book up completely before we even hit the Spring time.  There is a big risk that waiting until the last minute will backfire, as it is not uncommon for the island to book up completely with no available inventory left come June.  If you're okay with taking a chance, you can sometimes find a good deal by holding out until the last minute to book, but there are no guarantees a home that fits your needs will still be available by the time Summer rolls around.
In recent years, the debate of traditionally renting out your home (i.e. through a real estate agent) versus renting through popular vacation booking sites, like AirBnB and VRBO, has received more attention as the vacation rental industry continues to become more popular. We believe when renting out your beach house, there are many more benefits as a homeowner to rent your home through us rather than a booking site and we've put together a list of some of these benefits.

We're here when you need us. First and foremost, we are local! We have two offices in Ocean Beach so if any problems arise for your guests during their stay, our rental agents can go over to your house in a matter of minutes to quickly address any issues for the renters. This is helpful to both you as the homeowner as well as the renters. The renters will get their issues addressed immediately, and we will inform you what is going on and take care of it without you needing to rush out to the island to handle the problem.

Fees & Payment Timing. Another major difference between renting your home through Fire Island Sales & Rentals versus VRBO and AirBnB is when the homeowners collect their money. Through VRBO, the owner doesn't get paid until the day after the guest checks in. When we book rentals, the owner receives a deposit at the time of booking, which in many cases is months earlier.
VRBO charges 8% to the homeowner (which they break down into 5% commission and 3% payment processing fee). They also charge an additional service fee to the renter, which doesn't come directly from the owner's pocket, but if that same guest were to book their vacation through us, either it would cost them less or the owner would get to keep more of the money in their pocket.

AirBNB used to charge hosts 3% of the rent amount and make the guests pay a variable fee up to 14.2%. Now, they charge hosts 15%, resulting in Fire Island Sales & Rentals being way more competitive than AirBnB from a price perspective. They also charge a service fee to guests on top of the 15% to hosts.

We screen your renters. On AirBnB and VRBO, anyone can book your home at the click of a button. We talk to all of our potential tenants and weed out noisy or destructive groups that would cause a disturbance to the neighborhood and potentially damage your property. We draw on a huge pool of repeat tenants that rent with us year after year, so in many cases we know first hand they will treat your home with care. If a rowdy or destructive group rents your home off of AirBnB or VRBO, there is no one who is accountable to you. If we handle your rental, we do everything possible to ensure that only suitable tenants are placed in your home, and in the unlikely event that an issue arises, we are here to work with you to handle the situation.
Additionally, we also market your home for you by sending out email blasts to thousands of potential renters and promote your rental on our social media platforms, like Instagram and Facebook. We also know the Fire Island rental market very well so we can steer you in the right direction in terms of pricing, and we are extremely helpful in filling a last minute vacancy.
If you are interested in renting out your home, we are here for you! Contact us today to discuss what your home could generate in weekly, monthly, or seasonal income.
Rental season is just around the corner! If you're a homeowner who takes advantage of the lucrative rental market on Fire Island, we've put together a list of some tips to get your home rental ready for a successful summer.
Cleaning: Give the whole space a deep clean before the rental season begins!
Routine Maintenance of AC & Appliances: To avoid having to make maintenance calls while renters are at your home, it's worth checking to make sure the AC's work and if any air filters need to be replaced before your first rental checks in. This is also a good time to clean the grill and replace any grill brushes from last season.
Check Kitchen Items: Since most people are renting for at least a week at a time, we can assume that they'll be cooking a lot of their meals at the house as opposed to going out to eat every night. We recommend taking inventory every year of everything and making sure you have a full set of dishes, pots and pans, and utensils. These items will experience a lot of wear and tear since they will most likely be used the most in the house!
Bike & Beach Items: Take inventory of bikes, beach chairs, and beach umbrellas and see if any need to be replaced and/or fixed and if you just feel you need more!
Wagons: Note where the wagon can be picked up and where it should be left off when your renters' stay is over. It may be a good idea to have renters take pictures of the bikes once they arrive and once they leave.
Permits: Make sure rental permits and the BBQ permit are filed 
Touch ups & repairs:  A fresh coat of paint goes a long way to brighten up your space!  Make sure all door handles are working, windows and doors are opening and closing properly, etc.
Linen Inventory & Replacement: Good quality sheets and towels are important to renters. Since these items tend to get worn out the quickest, it's a good idea to inspect them and see what needs to be replaced.
Pool Maintenance: If your home has a pool, have it cleaned and make sure the filtration is working properly and the shock treatments are done.
Welcome Packet: Putting a packet together for your renters with information like the bike lock codes, wifi, how to access the TV channels/streaming, etc. can go a long way. A list of the local shops, restaurants, and bars are always appreciated by the renters too as they love recommendations of the locals' favorites. 
These are just some punch list items to get you started before summer officially begins. We wish everyone a successful summer rental season!